Payday Friday, day off from work, boredom, and sunny weather.
What does that lead to?
A haul of course!
So I was really bored today, but at the same time I was too lazy to go to a mall or anywhere far. So today I decided to go to Sally's Beauty Supply. I didn't go there with anything particular in mind, just browsing.
But they had a buy 2 get 1 free sale on the nail polishes. You can also mix and match the brands.
So I got 3 china glaze polishes and then right before paying, i saw on their clearance table a Finger Paints polish in the PERFECT hot pink color and the best part, it was ONLY 2.99!
I also got a pair of ardell mod lashes, the half lashes, and a bundle of hair ties because I lost all EVERY SINGLE hair tie that I had. It will be a couple weeks until I lose all the ones in this bundle as well.
I also got a discount on all of my purchases except for the Finger Paints polish (because that was already on clearance) because I had a Sally's beauty card. So instead of getting the China Glaze polishes for 5 something, I got them for 4.49, it went up a dollar though, it use to be 3.49 with your discount.
I highly recommend everyone get the Sally's discount card. It's BASICALLY FREE, because up front it's 5.00 for the card, BUT you get that 5.00 back to use the next month. On your receipt that shows that you purchased the card, it has your 5.00 off next month thingy on there. So yeah, go get it!
Yep the pictures are backwards because I used photobooth on my mac to take these pics.
China Glaze Polishes:
purple: Spontaneous
turquoise-ish color: For Audrey
pink: Nake
Finger Paints Polish: Art Nouveau Glow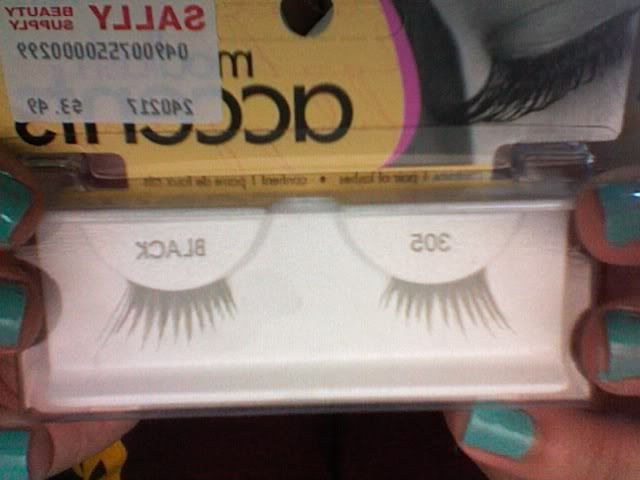 Half Lashes in BLACK 305
I plan on using those lashes for my birthday. I'm starting to practice different looks that I want to do for my bday. I can't find the picture online but in Ulta's ad, in the stila section, there's a picture of a model with the look i think i want to do. It's a goldish smokey eye for stila's summer collection, bollywood i believe?
but yeah, have a happy weekend everyone!