yes... another shopping list.
i like to make lists for clothes, makeup, groceries, to-do's... i like making lists in general. Always have, even when back in third grade. I've always felt more at ease when things are organized that way. Plus, after I lay everything out, I'm able to see and eliminate the things I don't need.
So! here it goes...
FOREVER21 (you know it!)
I LOVE the back
or
possibility for grandma and grandpa's anniversary party that's on july 25th
with a cardigan, black belt, and edgy ankle boots. [but if the dress is that short on me, i probably won't get it... I have some of the dresses that are on the models and they aren't as short on me as they are on the models]
LULU'S
I'M IN LOVE! ME WANT!!!!!
But I'm torn between these colors... i don't know which one to pick: espresso or ash??
I still need short sleeve cardigans... when i went to the actual forever21 store they didn't have any >:(
Honestly, I hate shopping IN the actual forever21 store, specifically the mall of america one, BECAUSE you cannot find anything you are looking for in there, not because it's organized by color and everything is bunched together that way but because they have a whole lot of nothing in there. The store is FILLED with clothes, things are thrown around EVERYWHERE, but at the same time, they don't have the items that I have on my lists. They have everything BUT the stuff on my list.. go figure. Next Saturday, my friend and I are going to a different mall that has a F21, and i heard from a few people that that forever is alot better than the one at Mall of America, so i want to check that out, and if I see nothing there, I guess I'll have to order online. I like ordering from the website much better. I already know my sizes and I've never had a problem with getting the wrong size or anything like that and I don't have to deal with the mess. Only disadvantage... waiting for the package to arrive.
ALSO
Today I went to Marshalls, Sally's Beauty Supply, and Walmart.
At Marshalls I got bronze gladiators by steve madden. It also came in a silvery, pewter color that I also wanted but they didn't have any my size =(. So I'll probably get these black gladiators from Charlotte Russe. (I like to have a brown of something and a black of something because some outfits/colors go better with one or the other, same with gold and silver)
The original reason why I wanted to go to marshalls was because I wanted the Chi Silk Infusion, but for some reason I didn't get it.? But instead I went to Walmart and got a heat protectant spray by Treseme, a leave-in conditioner by Dove, and a scrunch spray by Aussie.
At Sally's, I got 10 inch hair extensions because I wanted my extensions to look a tad more natural than my super long 18" ones... MAJOR DISAPPOINTMENT. I HAD NO IDEA HOW LONG MY HAIR GREW! In my mind, I have this idea of how short my hair is, despite the fact that I look in the mirror everyday and see my hair--- I start making my extensions, I hold it up to my head... SAME LENGTH AS MY NATURAL HAIR. I kept saying over and over.... my hair did not get this long overnight... what the heck happened... You can't return the hair... I already cut the track up anyway... so I'm just gonna give it to my sister, and I ended up just trimming my 18" ones, also I cut my own hair today because I was extremely bored... I also colored it using medium copper brown by ion from sallys, with a 30 volume since my hair was close to black to begin with. 
I was going to do a video on this haul but I didn't and now it's pretty much too late so I'll blog about it.
Marissa / Marissa1217 from youtube, went and done it again. I told her I DID NOT WANT ANYTHING FROM HER FOR MY BDAY. Because she already did enough by surprising me back a few months ago and I was so grateful for that, she does not need to do anything else for me for the rest of my life LOL. But she goes and gets me a present anyway, and its a gift card for MAC. Geebuz, if you're reading this Marissa, thank you AGAIN, I know I've thanked you a million times already but I really can't thank you enough.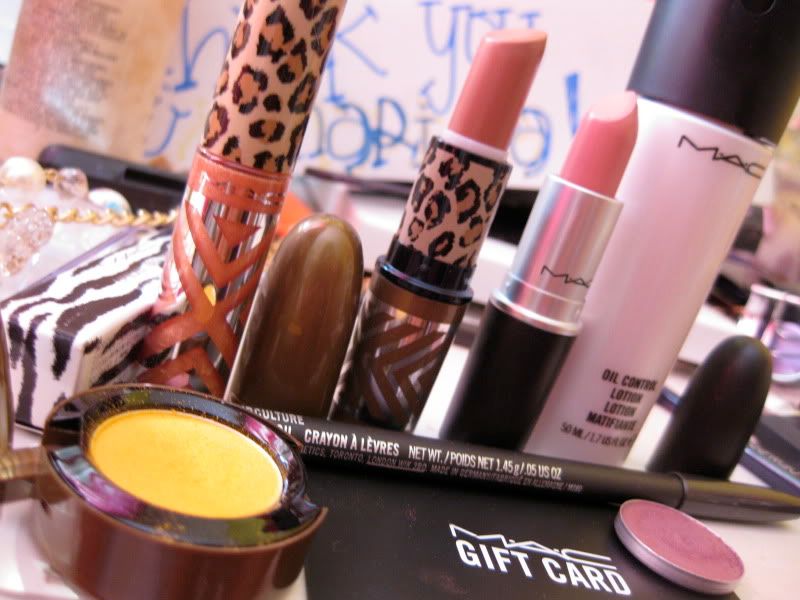 So I used the giftcard for the 25% off SUMO sale that was going on back in June.
In the picture I also threw in the items that I hauled from when I went and got my makeup done at the pro-store because I didn't do a video on that either... yes SLACKER.
and last of all I would like to say Happy FIRST Birthday to my little cousin Olivia aka LING LING [what a cute nickname]. A candid picture my aunt took of us while we were playing together a few weeks ago lol